THE STORY
The Founders, Bill Robertson and Ray Trull.
Ray put in £250 and Bill borrowed £250 from the bank and supplied the small van which he bought for £250 at 10 shillings a week. They looked into an empty pub called The Star, however, the council wouldn't give planning permission for change of use, so they contacted a landlord who had various properties. He said they could have 1 & 3 Erith Road, which was two shop fronts with maisonettes at the rear and over the top.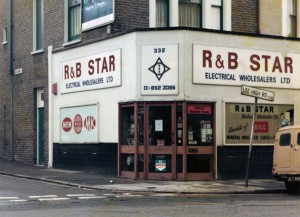 When they first viewed the shop they found star gift stamps and star banners and posters, so they agreed to call the firm Star Electrical Wholesalers because the name Star kept cropping up. It also wouldn't harm that the biggest electrical wholesaler was Sun Electric and Star would come before them in the phone book.
As ex contractors themselves Ray and Bill always treated the customers the way they would like to be treated. They ensured trading was honest and above board. They had the reputation of being the most honest and reliable electrical wholesalers. This still holds good today.
Their first employee was the milkman's boy who cleared up on Saturdays after his milk round. When he was old enough Bill went to see his headmaster to get him out of school between terms. He is still working for the company. R & B Star treat employees how they would like to be treated, and the same principles apply today, if you like our service let others know if not then let us know. The business expanded and the accountant recommended they became a limited company. "Star Electrical Wholesalers Ltd." was not accepted. Many permutations were tried and rejected. In desperation they tried Ray & Bill Star etc. and this was accepted, they then tried R & B Star (Electrical Wholesalers) Ltd. the name we use today. This fitted well with the pop music of the day who were introduced as "And now R & B Star —" The bank called us the Rhythm and Blues account.
They out grew 1&3 Erith Road and moved up the road to 68 to 72. The wholesaler Ray previously worked for went bankrupt and they bought his Lewisham premises in Lee High Road, but not the company. They outgrew these premises and relocated to Thurston Road Industrial Estate, in Lewisham.
"Bill had the idea of telephoning all the factory customers and convinced them now was the time"

There was a separate bulk warehouse but this became a nuisance because of having to keep going back and forwards to it, therefore, they signed up for 13 & 14 Kennett Road, which was bigger than the rest of the premises put together.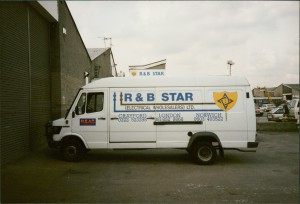 Just after signing along came the three day week. It looked like curtains for R & B Star but Bill had the idea of telephoning all the factory customers and convinced them now was the time to do all their alterations. The three day week broke many companies. It made R & B Star. They did more business during the three day week than any other time so far and their reputation grew. The manufacturers, who wouldn't supply them before, were queuing up to take them on.
Over the next few years Ray took early retirement from the business on health grounds. Bill moved to Norfolk and the company purchased a small wholesaler Grove Electric. The original Manager Derek Woods has now acquired the branch and it is now called Woods and Star.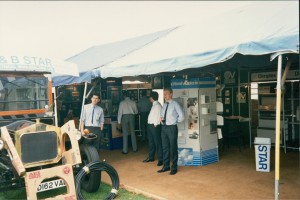 When Bill came to retire, he sold the company to his sons Bob and Brian, Bob is our current Chairman and sadly Brian passed away in October 2003.
An online website was set up as the dot com era boomed. By 2002 we had set up a fully transactional Business to Business Ecommerce website allowing customers to login and view their account details and place orders. Towards the end of 2004 in addition to our B2B Ecommerce site we set up a Business to Consumer Ecommerce site allowing anyone to order items via the Internet with a credit card (www.rbstaronline.co.uk)
In 2004 the Lewisham branch moved to Norman Road in Greenwich where it is now allowing for further expansion of the London side of the business. Brian's eldest son Glenn and Bob's eldest son Andrew have both now joined the board of Directors and Glenn's sister Vicky has joined our Head Office team as financial controller.
A new Kent branch was opened in Maidstone in September of 2007 and has grown from strength to strength since. The branch is located on the 20/20 business estate just off junction give of the M20. In the summer of 2008 some of the accounts and head office functions have been moved to the Maidstone branches plush new offices.
Why not pay us a visit …