DIRECTORS
Bob Robertson –
Chairman
Joined R&B Star in 1973 after working for 6 years in the motor trade and successfully completing 6 year management course gaining full MIMI. After presenting a 5 year business plan (that took 3 months to draw up) it was suggested that I become a van driver and service the vehicles. I soon progressed via stores manager to counter manager. One of the founders left the business and I succeeded in getting my plan adopted. The plan included 'professionalizing' the company, moving to larger premises, joining the trade associations and a buying group. I now concentrated on buying as we had now relocated to 14 Kennet Road and rented a new unit at Lewisham. When Bill announced he wanted to retire, he kindly lent me the money to buy the company and keep it in the family, we are all very grateful for this.
---
Andrew Robertson –
CEO
Coming from a family of electrical wholesalers I've been brought up around the company and seen the many changes which have made the company what it is today. As I was leaving school to study business at university I was diagnosed with a muscle wasting disease which has left me confined to a wheelchair. This minor stumbling block was an opportunity for me to develop my academic ability achieving a Masters and PhD degree whilst working in the background of the company. Every cloud has a silver lining! I am passionate about business processes and enjoy developing computer systems which make the staffs job easier and allows them to dedicate more time into providing the best service possible to our customers.
---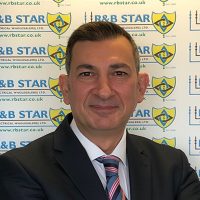 Domenic Raffa –
Managing Director
In returning to R&B Star I will be building on 34 years of experience working in the highly competitive electrical wholesale market, of which the last 17 years I have been engaged as a main board Director. Having previously worked at main board level for 10 years between 2002 & 2012 at R&B Star, I know that our business requires every team member to have a can do attitude, this along with competitive pricing and an efficient delivery service is key to keeping our clients loyalty. In the last 6 years I have worked for Moss Electrical Ltd as their Business Development Director, this role aimed at targeting blue chip supply chains whilst developing durable relationships with their end clients & key suppliers. I am most excited about having this opportunity to be back working for a business which has a top down mentality that our team should endeavour to provide a first class customer experience.
---
Glenn Robertson –
Director
Nephew to Bob Robertson, I came into the business after the death of my father and have worked at R&B Star since 2003. Prior to that I was a data comms engineer who was subcontracted to some of the larger network companies, trusted in servicing large supermarket chains, many university sites and government projects up and down the country. At R&B Star I started in the warehouse and worked my way up to telesales before becoming a Director, I am passionate about safety and very proud of our accident record and our procedure manual. At R&B Star we like to develop our "Stars of the future", I am qualified by external bodies ITSSAR, pro-trainings and British safety to train and certificate our staff in Manual Handling, Forklift Truck, first aid and fire warden. I also oversee the Maidstone Sales Team.
---
Paul Finnis –
Director
I started at R&B Star in 1987 and have worked my way up from apprentice to Director. I oversee the Crayford team (which is also the main dispatch centre for the business). R&B Star have supported me throughout my career, moving from the warehouse into sales and onto Management. I qualified as a lighting engineer in 2003 and am happy to give advice from an independent technical perspective. As part of my role I also oversee the external Sales Team.
---