Charity Champion of the Year!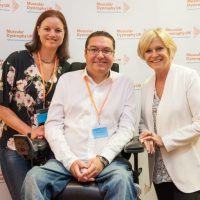 Congratulations to our MD Andrew Robertson on being awarded the Muscular Dystrophy UK Charity Champion of the Year Award.
The annual awards were hosted by charity President Sue Barker for 12 years, and recognise the remarkable work all the supporters do across the UK. Supporters were recognised in eight categories, covering fundraising, campaigns and communications. The awards were held at Muscular Dystrophy UK's annual National Conference in London.
Muscular Dystrophy "Andrew Robertson is a fantastic ambassador for the charity. He has raised an impressive £36,000 for the charity since 2012. And I know that he has become renowned locally for his fantastic annual ball at Leeds Castle. That Andrew has raised so much for the charity, despite working full time is testament to his brilliant drive and commitment.
In his spare time, Andrew attends muscle group meetings, where his openness to share his experience and honesty is of the absolute benefit to his peers. Andrew also mentors a young man with muscular dystrophy, showing what can be achieved in life, despite his physical challenges."
Too read more
click here