Go-Karting 2018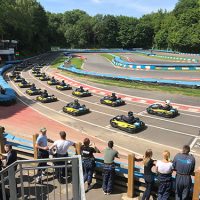 Sunday 3rd June saw our annual go-karting event at Buckmore Park, Chatham get off to a exciting start. 33 teams battled it out for 1st place during the 2hr endurance race. The teams made up of customers and suppliers saw everyone having a great morning.
It was great to see so many friends and family's come along to cheer the racers on.
Congratulations to everyone who took part.
Top three places go to
1 Lindfield – Laps 134 Best Time 51.249
2 Oakleaf – Laps 132 Best Time 51.109
3 Niblock – Laps 131 Best Time 51.588