July 2015 Go – Karting Event at Buckmore Park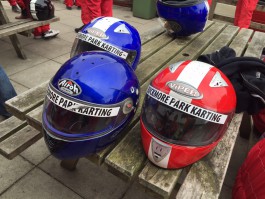 On 12th July 2015 R&B Star held the annual Go-Karting event at the prestigious Buckmore Park race circuit in Kent. There were more than 160 attendees and 30 teams each with their own fitting team names. With the rain in the morning, the track was a real challenge for many drivers who ended up spinning and wiping out competitors. As the track dried out the times were coming in at 52 seconds which was amazing as the fastest lap record for the week was just over 50 seconds. So the 2 hour endurance race begain and all manor of mayhem took place, there were karts breaking, spinning, crashing and total carnage when 4 karts attempted to go round a corner meant for only 1 kart. With many pit stops and refueling happening, it meant that all drivers got a good session. All in all a very successful day and very much fun for the drivers and the spectators.
The pictures have been uploaded on Facebook at the following link.  https://www.facebook.com/rbstarelectricalwholesalers
Go and have a look and tag yourself or colleague.