Mountainous 2017 challenge to help beat muscle-wasting conditions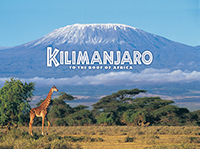 An adventurous team of 5 colleagues from R&B Star Electricals Wholesalers, based in London and the South East, are gearing up to spend nine days in Tanzania scaling the peak of Mount Kilimanjaro, Africa's tallest free-standing mountain at 5,895m / 19,341ft above sea level, in order to raise thousands towards Muscular Dystrophy UK's work.
Sarah Revell, Dan Kenward, Aaron Felton, Adam Felton and Elspeth Robertson will join a group of 12 others flying to Tanzania to tackle the 6-day fundraising challenge in support of Muscular Dystrophy UK. The charity gives emotional and practical support to 70,000 children and adults in the UK living with muscle-wasting conditions, and funds ground-breaking research into treatments. The Managing Director of the company they work for has a rare type of the condition and is now a wheelchair user.
Muscular Dystrophy causes muscles to weaken and waste over time, leading to increasingly severe disability. People living with the condition may struggle with the everyday actions others take for granted, from walking and climbing stairs, to blinking and smiling. For some, their heart and vital breathing muscles will weaken, cutting their lives short.
Each trekker needs to raise a minimum of £4,000 each for the charity and have already planned a series of fundraising events to help them hit each of their fundraising targets.
"Climbing Mount Kilimanjaro will be a whole different ball game – it is a pretty scary physical challenge! We are going to have to put some serious work into getting fit. We are hoping to raise £20,000 for Muscular Dystrophy UK between us, and have plans for a dragon boat race, a 5-a-side football tournament, poker and BBQ night and much more. I really hope that people will support us; the development of potential treatments that the charity is funding could help to change thousands of lives." Sarah Revell
Anneke Liefting Muscular Dystrophy UK's South East Regional Development Manager, said:
"The team have a gruelling challenge ahead of them, including months of training and fundraising. It is going to be hard work for our trekkers but every hard-earned mile is going to make an impact. By taking on a major fundraising challenge like this, the team alone can fund 4 months of pioneering research into muscle wasting conditions. We hope people will show them their support."
To donate to the team and read more about their epic trek, visit:
www.justgiving.com/fundraising/RBStarTrekkers
To find out more about Muscular Dystrophy UK's Kilimanjaro trek visit:
www.musculardystrophyuk.org/events/climb-kili/