We are proud to be able to support apprentice Electricians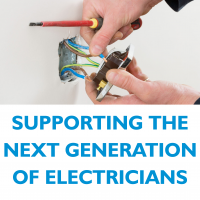 R&B Star are very proud to be able to support the latest apprentice Electricians to join the team at VVB-Eng (www.vvb-eng.com).
R&B Star believe that it is very important that young people are offered every opportunity to training and support. Through the apprentice scheme they will gain knowledge and hands on experience.
Callum Edhouse who joined VVB in September will be attending the Prospect College of Advanced Technology where he will be studying for an NVQ level 3 Advanced Electrical Certificate, which is a City & Guilds 2357 course.