The Aico Mobile Training & Demo Unit is stopping here!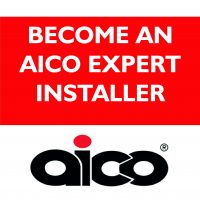 Aico's Mobile Training and Demo Unit is going to be our Maidstone Branch on the 10th May.
During the morning the team will be on hand to chat to you. The afternoon there will be a training session being held where you can become an expert installer!
Become an Expert Installer
Our free, CPD accredited Expert Installer training can now be delivered to groups in the mobile unit. Learn the latest Standards and Regulations, where to site alarms, as well as learning about our innovative technologies.
Get hands on with our alarms
During your visit, we'll give you the chance to have a go with our alarms and technologies with help on hand if needed. From house coding to data extraction, give it all a go.
Take a virtual tour of our manufacturing process
Get to know us as a company and how we manufacture our alarms. See for yourself why we pride ourselves in our excellent quality, service and innovation.
Get to grips with the latest technologies
Keep up to date with the latest Smoke and Carbon Monoxide Alarm technologies as your Regional Specification Manager shows you their full capabilities and explains how they can benefit you and your customers.
To book on to the training call 01691 664100 or email enquiries@aico.co.uk