Charity Rugby Match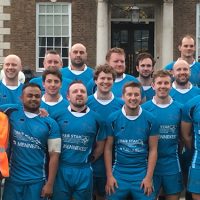 R&B Star where proud to be able to support Tideway West in their inaugural Tideway-JV rugby match. The match which was held at the HAC pitch in Moorgate in September saw Tideway West v Tideway Central play an exciting and spirited game. In the opening minutes the spectators saw some strong tackles with neither side willing to yield, an injury and some impressive try's. The match finished seeing Tideway Central as the winner.
It was great to see such a momentous effort by the players and so many people come out to support them and the charity. Over £100 was raised for Great Ormond Street Hospital.
We are looking forward to the rematch next year.